Parts Finder
Find the right parts for
your vehicle
Need help? Click here
Latest News

Posted: 15 January 2017

---

Posted: 23 December 2015

---

Posted: 8 December 2015

---
About Us

Welcome to the Panel House online store.

Panel House is an Australian owned and operated family business founded in 1987.
Operating for over 25 years, Panel House are the crash repair parts specialists, stocking quality aftermarket, genuine and second-hand parts for most makes and models. With over 15,000 items in stock, Panel House is sure to have what you are looking for in stock ready for prompt delivery Australia wide.

You are welcome to call one of our experienced staff members during business hours; they will provide you with the necessary advice to ensure you make the right purchase for your vehicle. Panel House strive on great customer service and are here to help you find exactly what you need and help you save money.

All products sold are covered by a 7 Day Money Back Guarantee, so if there are any issues, please contact one of the friendly staff and they will find a solution no matter what the issue may be.

If Panel House don`t have your part in stock – chances are that they can get it for you. Sourcing car parts from around Australia and overseas is their specialty. Getting the right car part for you is our goal and Panel House is the best in Australia.
The Panel House showroom/warehouse is located at 45 Randall Street, Slacks Creek Brisbane.
See the Contact Page or FAQ for any automotive questions you may need answered.
Ordering

Company Info

Information
Australia's Online Aftermarket Car Part Store
A Car Part For Every Car
Panel House is an Australian owned and operated crash repair parts company with thousands of items in stock and ready to go. Our online store features quality aftermarket, genuine and second-hand automotive parts for most makes and models that are available for fast delivery Australia-wide. Selling directly to the public at wholesale prices, the online car parts on offer at Panel House make it affordable and efficient to get your car back on track.
Why Buy Your Aftermarket Car Parts From Us?
At Panel House, we specialise in most vehicle makes, including BMW, Chrysler, Daewoo, Daihatsu, Ford, Holden, Honda, Hyundai, Isuzu, Jeep, Kia, Mazda, Mercedes, Mini, Mitsubishi, Nissan, Peugeot, Proton, Subaru, Suzuki, Toyota, Volkswagen and much more. The crash repair parts available in our online store cover auto body parts, lights, cooling, handles, window regulators, door mirrors and more. We also import Japanese parts and second-hand auto parts. All of our pieces are priced as low as possible to ensure you can get what you need at a great price, as well as offering competitive domestic shipping rates.
Can't Find The Car Part You're Looking For?
Using the Parts Finder at the top left, simply select the make and model of your vehicle and browse the available car parts ready to purchase in the comfort of your home, delivered straight to your door. If you are unsure of something or you cannot find what you are looking for, simply contact one of our friendly staff at Panel House on 1800 238 800 and we can provide you with the necessary advice to ensure you make the right purchase.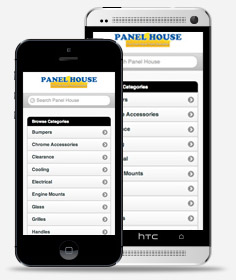 Switch to our mobile store
Browse and shop for Panel House products on your mobile device.
Go to mobile version