clear

Filter By Placement on Vehicle

Filter By Category

Filter By Brand
---
Product Reviews
Raidiater over flow bottle for toyota camry
By:

Cindy
Was the exact bottle i needed. Didn't take long to get to me.
Windscreen washer assembly for AE90 - AE92 Toyota
By:

Roland Harris
This is a top quality Taiwan-made perfect replica of the original. It was dead easy to fit. I salvaged a black grommet from the old unit to locate the base peg of the plastic water tank, and it is hel
Review Radiator Overflow Bottle with Lid Fits Toyo
By:

Nick
Looks totally authentic and even works. Good price and quick delivery. Exactly as original.
one happy customer
By:

COLIN DAVIES
This washer bottle replacement was the first job I had to since purchasing this ute 6 years ago needless to say I was very pleased when it fitted and worked without alteration to the current wiring l
Delica Overflow bottle
By:

Peter Hayes
The item seems value for money.fits well and a great improvement on the old one..Hopefully it will last ,only time will tell.
overflow bottle
By:

john
Very happy with supplied product came with sensor and radiator cap
expansion tank
By:

christian hancock
thank you for the prompt supply of the expansion tank good service great price will be using you guys in tbe future much apreciated and very happy cheers
expansion tank
By:

christian hancock
tank
Windscreen Washer Bottle With Motor Pump fits Toyo
By:

Graham Weiss
It also fits an AE94. Bolts straight on and works well.
Thanks
By:

W Richmond
Fast delivery and gifts perfectly
---
Car Cooling Systems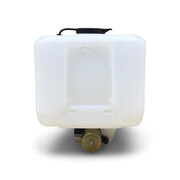 $39.99
39% OFF
RRP $66.00