---
Product Reviews
Bonnet trim for Dmax
By:

Stephen
Easy to find online, excellent descriptions of what we needed to buy and super quick delivery. Product was packaged extremely well and arrived in perfect condition. Would not hesitate to use them agai
Perfect fit
By:

Mark
High quality replacement for broken original
Chrome upper front grill trim for Isuzu 2015 MU-X
By:

Paul Luxon
Fitted perfect - good price with a timely delivery - thanks
Bonnet mould trim D max 2012-14
By:

Eric Wagemaker
Easy to fit. Just needs new nuts as studs are longer than original I used stainless nylock nuts
Isuzu bonnet trim
By:

Steff Marsh
Easy transaction, no problems with fit, speedy service
Bonnet Garnish
By:

Ian McKay
Had previously had a quote for a isuzu original part so thought I would check online.Substantial saving arrived in quoted time and fitted easily.Recommend.
Isuzu D-max bonnet trim
By:

Paul Thwaites
Great product. Great service.
Great Product and Service
By:

Jason Evans
Perfect fit on my dmax, looks awesome
Bonnet Mould trim for D-Max
By:

Steve
Good quality, very quick delivery. Fits no problem. Pricey for what it is but it's still the best deal I could find.
Chrome Binet mould trim
By:

John ilies
Quality product, fit perfectly and prompt delivery. Cheers. John
---
Bonnet Moulds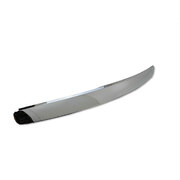 $89.70
18% OFF
RRP $110.00