Frequently Asked Questions


What kinds of parts do you sell?
Panel House specialises in quality aftermarket and genuine crash repair parts / replacement parts.
Crash Repair Parts include:
Auto body parts - guards, guard liners, bonnets, front and rear bumpers, front and rear bar reinforcements, doors, tail gates & radiator supports.
Lights - head lamps, tail lamps, blinkers, guard repeater lights & fog lights.
Cooling - condensers, radiators, radiator fan assembly, washer bottles & overflow bottles
Handles, electric and manual window regulators, door mirrors and much more…
Due to the high demand of Japanese Import Parts; Panel House import second-hand auto parts including half cuts, gearboxes, intercoolers, panels, lights, coil overs, rims, racing accessories (bucket seats, steering wheels, spoilers & stud conversions).

What are aftermarket parts?
The term 'aftermarket part' means a new automotive part that can be supplied as an alternative to a genuine part. Aftermarket parts are developed to meet quality and certification standards for fit, component materials, and corrosion resists. Panel House encompasses aftermarket parts for replacement, collision, appearance, and performance for commercial and public use.

Can't find a part you're looking for?
We have over 15,000 items in stock because simply, that's all we can fit!
The website is continuously being updated with new items, nevertheless and all items are listed online. By contacting us by phone or email, one of our sales team will assist you in finding exactly what you are looking for.

How do I know what is Left Hand (LH) vs. Right Hand (RH)?
All vehicles sold new in Australia are right hand drive.
The side is determined as if you are sitting in the vehicle.
Right Hand (RH) = Drivers Side.
Left Hand (LH) = Passenger Side.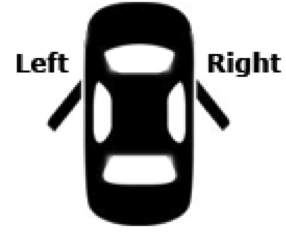 What information should I know before ordering my parts?
Before attempting to find a part make sure you have the following details of your car.
• Make
• Model
• Production Date (month and year)
• and such relevant information as Body Style. Motor Type. Manual or Auto Transmission etc.

Is pick-up available?
Yes of course! We operate our shop/warehouse based in Slacks Creek, Brisbane. You are welcome to drop in and browse, purchase or pick-up your parts. Additionally, you can pay on pick-up by cash, debit or credit card.

Can I combine more than one item to save on shipping?
When you buy two or more items at the same time, freight / postage costs can be combined and calculated to save you money.
Combined shipping is calculated based on the size and weight of the items and delivery method.

If you can't find the answer to your question here, simply contact us by email sales@panelhouse.com.au or my phoning 1800 238 800 and one of our friendly team will assist you.
I have ordered the incorrect item, what should I do?
Items returned that are not warranty, incorrectly sent or damaged in post will be charged a 15% restocking fee for free post items. The buyer will be liable for any freight charges to return the item.